Green Mountain Rifle Barrels makes classic

BPCR

(black powder cartridge rifle) barrels,

Ruger

10/22 and 77/22 barrels, and replacement rifle barrels for

muzzleloaders

, not to mention Uzi barrels.

They provide competitive shooters and hunters with accuracy and dependability they can count on at an affordable price. This uncompromising quality is achieved by crafting barrels using a hands-on approach in production, where barrels are machined from high quality American made bar stock, A.I.S.I. 1137 modified, stress relieved, annealed, certified rifle barrel quality steel. All barrels are drilled from solid stock, reamed to a high degree of smoothness, then optically checked for straightness. Very close tolerances are maintained. Diameters vary less than .0002" within any bore.

They are the barrels that Knight Rifles used in their products. The publisher of Rifle and

Handloader

magazine endorses the GM barrels and sells some of them on their site.

They make great barrels for
Ruger
rimfire
rifles and their prices are some of the lowest around. The Running Boar barrels are a real bargain at seventy-five dollars with free shipping and handling. Since an order placed with them on a Monday morning was delivered in kalispell Wednesday afternoon, I'd say their service is exceptional.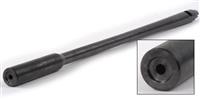 Green Mountain's .22, .22WMR and .17 HMR caliber running boar target barrels are so called because they're so similar to European Running Boar target and Biathlon competition rifles. These 22" weighted muzzle barrels are .92" in diameter for about 4" at the muzzle.

They feature excellent balance, so keeping the barrel up is not too difficult. Our Running Boar target barrels also fit factory stocks with minor sanding. Whether you need a 10/22 Magnum Running Boar target barrel, a 10/22 Running Boar target barrel, a 77/22 Magnum Running Boar target barrel or a 77/22 Running Boar target barrel, Green Mountain has you covered.

Green Mountain Magnum Running Boar target barrels come in several configurations. You can choose your 10/22M Running Boar target barrels blued or in stainless steel. The .22 Long Rifle 10/22 also come either blued or in stainless steel.

Similarly, our 77/22 Magnum Running Boar target barrels come blued or in stainless steel. Or, you can choose a blued 77/22M for the .17 Hornady. Whichever you choose, Green Mountain provides rifle barrels ready for the European Running Boar competition.
(Me)
(Home)