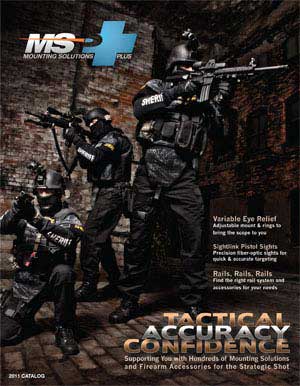 Mounting Solutions Plus
(MSP) is a manufacturer of quality firearm accessories as well as a distributor of firearms related products. MSP is proud to be a Top 10 Distributor and exporter for multiple manufacturers, and its distribution line includes:
A.R.M.S.
Aimpoint
EoTech
Samson
Bushnell
Burris
Horus Vision
SPOT Scopes
Supervision
Barrett
Pro Ears
Weaver
Elcan
Grip-pod
Mag-pul
Tapco
DuoStock
Precision Reflex
Lula Loaders
ArmaDynamics
Buffer Technologies
Weigand
Eagle
TriTech
Michaels of Oregon
Rifle Basix
Surefire
Streamlight
Fenix Lights
Taclite
Accushot
Butler Creek
CRKT Knives
Trijicon
Ameriglo
Harris Bi-pods
MSP continues to expand its distribution and export network, and expand its distribution line of quality firearms accessories.
Many years ago, MSP opened its manufacturing division by making the A.R.M.S. #1 G-3/MP-5 mount for HK rifles, and the A.R.M.S. #3 & #4 FN FAL mount, under license from A.R.M.S. In the years since, MSP has added many products to its manufacturing line, including:
Anti-Cant Device (ACD)
Sightlink Fiber Optic Rifle Sights
Tri-Link Fiber Optic Shotgun Sights
EB Fiber Optic Pistol Sights
Muzzelite Bullpup Stocks
Picatinny Rifle & Pistol Bases
MOA Solutions Bases
Add-A-Rail
Picatinny Rail Blanks
Nightlink Night Vision Mounts
Scope Tube Accessory Rail
PCW Spacers
Elcan Picatinny Adapters
Helmet Light Mounts
Wristband & Headband Light Mounts

Tactical Light Carriers
Molle Mat
Rifle/Pistol Cases
Magazine Pouches
Lightlink Recoil Protected Mounts
Pistol Adapters
Action Levels
Gas Diverter Charging Handles
M16 Sight Tools
Reverse Filler Nuts
Suregrip
Barrel Vise
Spotting Scope Bench Mount
Bench Compression Tools
Universal Adapters
MSP works with injection molders, spring engineers, CNC machining facilities, design engineers, MIM molders, webbing specialists, and industrial suppliers to continue to expand its line of quality manufactured firearms accessories and tools.
All MSP products are subjected to proprietary FUSAIR testing to ensure only durable and rugged products will reach the customer. Products which fail in testing must be re-engineered until they meet our performance standards before being marked with the FUSAIR logo.
MSP is a recognized consultant to the firearms industry, to law enforcement, and to military organizations. MSP regularly works jointly with other companies to solve design or manufacturing issues.
MSP sponsors shooting competitions in multiple shooting disciplines, and to sponsor champion shooters. MSP knows that products for shooters must work as intended, and relies on shooters to conduct the final evaluation and "user friendly" improvements of its products.
MSP prides itself not only on delivering the finest firearms accessories available, but for living up to our name -- Mounting Solutions. MSP retains a Master Machinist to whom customers, with unique problems mounting an accessory to a firearm, are referred and MSP will make every effort to solve any firearm accessory mounting problem no matter how difficult.
MSP is honored to support the men and women of both our Armed Forces and Law Enforcement community, giving an automatic discount on every individual purchase by active duty military personnel or commissioned law enforcement officers. MSP is a contractor registered with the Central Contractor Registry and the Defense Logistics Information Service. MSP's CAGE codes, DUNS numbers, or CCR information are available on request.
Giving prompt service is important to us. If your order is placed by 2:00 p.m. Eastern, and the items you order are in stock, the order will be shipped the same day.
If you have lost a product manual, our in-house web manager maintains downloadable replacement manuals on our web site.
If you can't find what you need on our web site, give us a call. We would welcome your input.
(Me)
(Home)